| | |
| --- | --- |
| Donate Life's 2014 Rose Parade float entry inspires Americans to Light Up the World as organ, eye and tissue donors. | |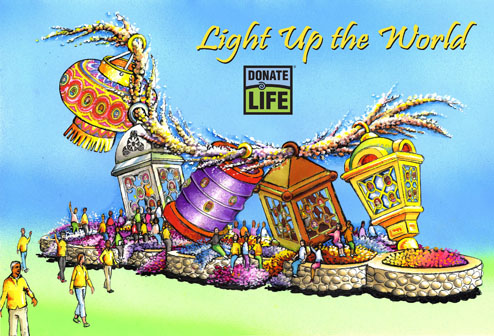 Download hi-res image
Download this page as PDF
Individuals and families touched by organ and tissue donation and transplantation shine a light on us all. Transplant recipients radiate with gratitude and renewed life thanks to the gifts of organ, eye and tissue donors; families of deceased donors rekindle their spirits by carrying on their loved ones' dreams; and both living and registered donors are beacons of hope to patients who aspire to live longer, fuller lives. Like lanterns illuminating the night sky above or the path before us, those who give and receive the gift of life Light Up the World with their compassion and courage.
The 2014 Donate Life Rose Parade Float entry features a festival of lanterns illuminating 30 riders – all grateful organ and tissue transplant recipients – and 12 living organ donors walking alongside to demonstrate their ongoing vitality. Five enormous lamps are adorned with 81 memorial floragraph portraits of deceased donors whose legacies of life shine brightly. The riders are seated throughout a dedication garden filled with thousands of roses bearing personal messages of love, hope and remembrance.
Donate Life urges viewers to help make dreams come true for more than one million people in need of life-saving and healing organ, tissue and cornea transplants. Join America's 110 million registered donors so that everyone whose life and livelihood depends on a transplant can have one. Sign up when renewing your driver's license or by visiting www.DonateLifeAmerica.org.