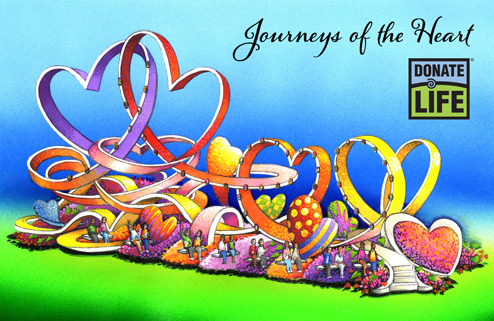 Download hi-res image
Download this page as PDF
The ups and downs of life teach us many lessons, with those experienced through organ and tissue donation and transplantation being among the most profound. Donor families pass through grief on the way to peace and remembrance; living donors step forward to give love and life to others; and transplant recipients courageously move forward from harrowing illness to health and gratitude. Though our paths vary from the places we start, we are all connected on our Journeys of the Heart.
Inspired by the 2013 Rose Parade® theme "Oh, the Places You'll Go!™," the tenth Donate Life Rose Parade float entry will transport 32 riders representing deceased organ, eye and tissue donors, living donors, and transplant recipients through a magical, heart-filled world encompassing the highs and lows that life has to offer. A pathway of looping hearts is lined with 72 memorial floragraph portraits of deceased donors who are remembered every step of the way. The float's collection of joyful hearts representing the new life made possible by transplantation is grounded by a reverent dedication garden filled with roses bearing personal messages honoring those who make the gift of life possible. The journey peaks with overlapping red and purple hearts representing the love and courage that define humanity at its best.
Donate Life urges viewers to join America's 105 million registered donors so everyone whose life depends on a transplant can have one. Sign up as an organ, eye and tissue donor when renewing your driver's license or by visiting www.DonateLifeAmerica.org.