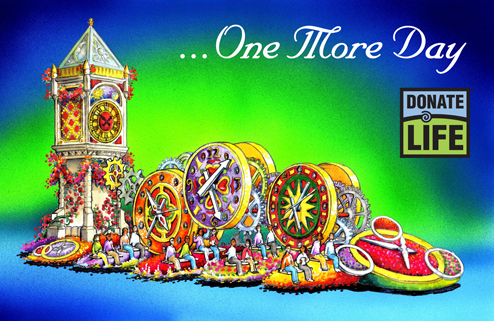 Download hi-res image
Download this page as Word fact sheet
Through their life-changing experiences, the families of organ and tissue donors, living donors, and recipients of life-saving transplants know intimately the preciousness of time. On Jan. 2, 2012, transplant recipients, living donors, and family members of deceased donors will join together to honor the preciousness of ...One More Day on the ninth Donate Life Rose Parade float entry.
Inspired by floral clocks and clock towers from around the world, the 2012 Donate Life Rose Parade float will carry 28 riders representing deceased organ, eye and tissue donors, living donors, and transplant recipients. Six enormous floral timepieces will be adorned with 72 memorial "floragraphs" (floral portraits) of deceased donors whose gifts gave life and time to so many. A rose dedication garden honors more than 3,000 people worldwide, with each rose bearing a vial with a personal message honoring a loved one. Anchoring the float is a 33-foot clock tower with an animated sun/moon dial reminding us to make each passing day count.
Just as every day counts, so does every donation opportunity. Donate Life hopes that anyone who has not yet registered will be inspired by Donate Life's float to join the 100 million Americans who have checked 'Yes' for donation when applying for or renewing their driver's license or identification card. Sign up as an organ, eye and tissue donor today by visiting www.donatelife.net.